2023 District Convention


April 28, 2023 - April 29, 2023




1:00 pm - 10:00 pm
2023 District Convention
April 28th & 29th
Convention Hotel: Holiday Inn Express & Suites – 406-377-3300
(see hotel list below)
International Guest: ID Lion Jeffrey "Jeff" Gans
To Register, select the number of tickets you want and click on the "Register Now" button.  You will have the choice to pay by check or credit card.
Registration & Friday Events:  Moose Lodge, 415 N. Merrill
Saturday Events:  Eastern Montana Events Center (EPEC), 313 S. Merrill
Saturday Evening Events:  Moose Lodge, 415 N. Merrill
Optional Friday Event Add-Ons:
Art/Sculpture Tour with Pamela Harr-Transportation/Guide Provided (starts at 1:30pm)
Tour of Lions Camp at Makoshika State Park- Transportation/Guide Provided (starts at 2:00pm)
Friday Events to Schedule on your own:
Golf (406-377-8797)
Glendive Dinosaur Museum (406-377-3228)
Downtown walking tour of businesses
MEMORIAL SERVICE:   During the District Convention, PDG Jim Johnke and PDG Melody Whitcher will be recognizing deceased Lions members at the Memorial Service.  Club Presidents or Secretaries are asked to record deceased member's name on lionsclubs.org web site or contact Winnett Lion PDG Melody at

[email protected]

.
PLEASE HAVE YOUR CLUB PROVIDE ONE ITEM/ BASKET FOR THE SILENT AUCTION WHICH WILL BE HELD IN CONJUNCTION WITH THE FRIDAY EVENING SOCIAL.THE PARADE OF GREEN WILL BE HELD DURING THE DISTRICT CONVENTION.
When you register online, you can pay with either credit card (Visa, Mastercard, American Express or Discover) OR by check payable to: Glendive Lions Club and mail the check to PO Box 366, Glendive MT 59330
QUESTIONS? PLEASE CONTACT: PATTY WINCHELL-

[email protected]

or 406-377-5631 OR DEBRA ANDERSON –

[email protected]

or 406-939-4903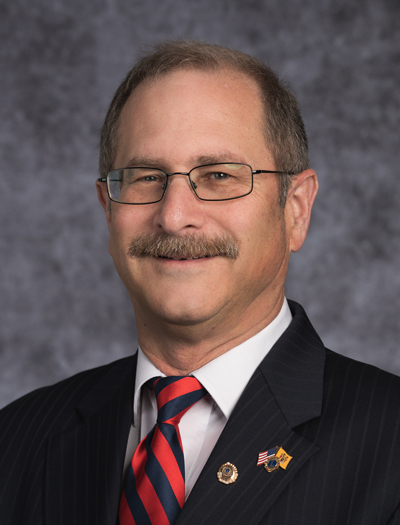 JEFFREY R. "JEFF" GANS INTERNATIONAL DIRECTOR Jeffrey R. "Jeff" Gans, from Voorhees, New Jersey, USA was elected to serve a two-year term as international director of Lions Clubs International at the association's 103rd International Convention, June 25 through June 29, 2021. Director Gans has been an attorney since 1982 and is a frequent speaker for Continuing Legal Education. He is a member of the Camden Lions Club—New Jersey's first Lions club—and has had perfect attendance since his father sponsored him in 1984. Coming from a multi-generational family of Lions, Director Gans fondly remembers attending his first Lions Clubs International Convention in 1961 as a five-year-old. He has held many offices within the association, including district governor, council treasurer, council chairperson, state & district parliamentarian, state & district rules chair, and state & district legal chair. In recognition for his service, he has received numerous awards, including a Life Membership Award, a Grand Master Membership Key Award, an International President's Award, numerous International President's Certificates of Appreciation, an LCIF Helping Hands Award, a Club President Excellence Award, a 100% District Governor's Award, Club and District Lion of the Year Awards, and a MD16 Harold P. Nutter Distinguished Service Award. Director Gans is a Progressive Melvin Jones Fellow Humanitarian Partner for having achieved the 100th Progressive Melvin Jones Level. He has also been recognized as a Brandel-Murphy Youth Foundation "Everyday Hero", a PIP Donald E. Banker Fellow, a PIP James T. Coffey Fellow, a PID Gene Polgar Fellow, a PID Cindy Gregg Kidsight Fellow, a William A. Smith Fellow, a Marshall Klein Knights for Vision Fellow, an Elspeth Moore Sight Conservation Fellow, and as a Melvin Jones Lions International Memorial Vanguard. Director Gans is also a life member of the Lions Eye Bank of Delaware Valley, the Lions Eye Research Foundation of NJ, the Florida Lions Foundation for the Blind, the Diabetes Foundation, Inc (NJ), and the Lions International Stamp Club. He is also a longtime member of the Lions International Trading Pin Club. In addition to his Lions activities, Director Gans is active in numerous civic and professional organizations including Bestwork Industries for the Blind Inc., where he has continually served as an officer or board member since 1984. He has also served as vice president and board member for Big Brothers Big Sisters of Camden and Gloucester Counties. Director Gans and his wife, Ellyn, who is also a Lion and Progressive Melvin Jones Fellow, have a daughter and a son who are also Progressive Melvin Jones Fellows.
Glendive Hotels offering Convention Rates:
Holiday Inn Express & Suites  (IHG One Rewards)   (CONVENTION HOTEL)
1919 N Merrill Ave – Glendive    406-377-3300
King & Double Queen Rooms – $96.00 + Taxes  (Rates valid 4/27 – 4/30)
Block of Rooms Under:  DISTRICT 37 Lions Convention
Includes: 
Refrigerator/Microwave
Pool, Spa & Fitness Room
Hot Breakfast
Tesla Charging Stations
LaQuinta Inns & Suites by Wyndham
1717 N Merrill Ave – Glendive     406-377-7300
King & Double Queen Rooms – $89.00 + Taxes  (Rates valid 4/27 – 4/30)
Block of Rooms Under:  GLENDIVE LIONS
Includes:
Refrigerator/Microwave
Hot Breakfast
Pet Friendly – First Pet Free
Fairbridge Inn & Suites
1918 N Merrill Ave – Glendive     406-365-6000
King & Double Queen Rooms  – $96.00 + Taxes  (Rates valid 4/27 – 4/30)
Block of Rooms Under:  GLENDIVE LIONS
Includes:
Refrigerator/Microwave
Pool & Hot Tub
Hot Breakfast
Register for the 2023 District Convention
September 21, 2023 - September 23, 2023




8:00 am - 5:00 pm
USA/CANADA LIONS LEADERSHIP FORUM IS GOING TO RENO, NEVADA  SEPTEMBER 21 – 23, 2023 Register Online Here Register by Form Here (more…)